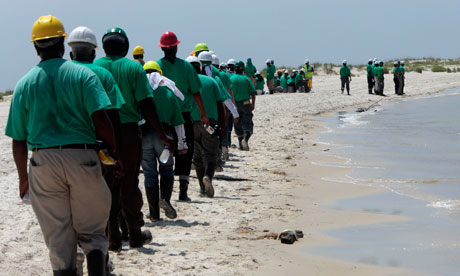 There have been many oil response workers and volunteers devoting their time to clean up the BP oil spill. But the wildlife are not the only thing in danger. The workers are too. They're at risk to chemical exposure, biological hazards, physical danger and psychological danger.
The CDC reported on NIOSH's efforts in the clean up:
NIOSH is protecting workers and volunteers responding to the oil spill in the Gulf of Mexico with the following efforts:
* Providing information to British Petroleum (BP), the Occupational Safety and Health Administration (OSHA), the U.S. Coast Guard, and other federal and state partners about protecting workers and volunteers from potential safety and health hazards.
* Assisting OSHA and the National Institute of Environmental Health Sciences (NIEHS) with information about tools for training workers including health hazard risk assessment and personal protective equipment selection
* Conducting a voluntary survey of workers to obtain a record of those who have participated and a mechanism to contact them about possible spill-related symptoms of illness or injury, as needed.
For more information click
here
.